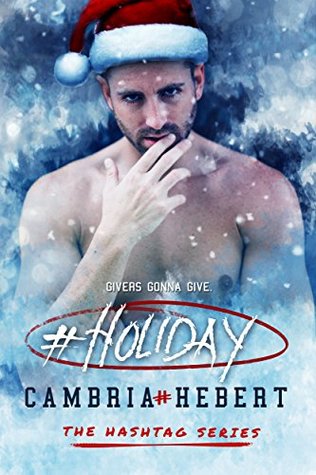 #Holiday
Author: Cambria Hebert
Series: Hashtag #6.5
Published on: December 3rd 2015
Pages: 86
Genres: Contemporary Romance, New Adult, Sports Romance


Hero: Roman "Romeo" Anderson
Heroine: Rimmel Hudson-Anderson
Givers gonna give…
Twas the night of game day,
And all through the town,
Lacey glittering snowflakes fluttered around.
They clung to the roads, concealing everything with white.
It was a beautiful #holiday sight.
The paparazzi were out without any care,
In hopes to catch Romeo and Rimmel, rumored to be there.
When out on the road there arose such a clatter.
The Hellcat spun out, but it shouldn't matter.
I pulled out my cell to dial in a flash.
But the battery was dead. What useless trash.
The moonlight glistening on the new fallen snow
Made us forget we needed a tow.
For the season was upon us. Our family was alight.
Our #holiday was destined to be merry and bright.
Safety Level: Safe 
Cliffhanger: No 
Ending: HEA 
I don't think that whatever took place in this novella was in any way significant to the series as a whole, or even if there'd be future books to look forward to. However, as a fan of the series, as someone who has loved and followed Ivy, Braeden, Rimmel, and Romeo, this novella is like a balm to a thirsty soul. It's great to read about them again and hang out with them and the entire family. It's only a bonus story, so while it will definitely entertain the series' followers, I still feel that I haven't gotten enough of the fantastic four.
To be honest, I really didn't expect to love this series as much as I do. On paper, the first book promised only an ordinary story that's been used many times. However, there is something about the way Ms. Hebert weaved the story and all the characters together that made me fall in love with these four protagonists. I can just see myself revisiting them every now and then.
Cambria Hebert is a latte sipping author of the Heven & Hell series, the Death Escorts series, and the Take It Off series. She loves a caramel latte, hates math and is afraid of chickens (yes, chickens). She went to college for a bachelor's degree, couldn't pick a major and ended up with a degree in cosmetology. So rest assured her characters will always have good hair. She currently lives in North Carolina with her husband and children (both human and furry) where she is plotting her next book.